Are you considering hiring carnival rides for your next party or event? Rides can be an exciting and unique way to keep your guests entertained at reunions, birthday parties and celebrations! While carnival rides are a great deal of fun, they must also be carefully chosen to avoid any unforeseen situations. Here are some tips to reduce stress when you hire a carnival ride.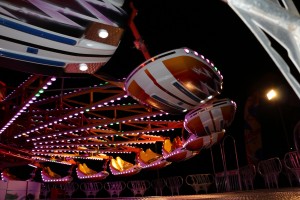 Only Choose an Accredited Carnival Hire Business
It's important to understand that some ride hire operators may not be operating legally. In some cases, the company may be run by someone without the proper training to operate the equipment safely. While hiring one of these firms may be cheap, it's not the safest option.
Before you hire a carnival ride, contact your local business or amusement association. These types of associations have very specific guidelines in place and ensure those hire firms listed are fully insured and carry out regular carnival equipment maintenance. This is a smart way to ensure that you only hire a firm with adequately trained operators. Knowing this can make the process of hiring amusement rides at your event, much less stressful.
Ask for the Carnival Hire Firm's Insurance
Any carnival equipment service you hire simply must have insurance. This is because you will be liable for any injuries or accidents that occur if you select to hire an uninsured firm. Don't accept any excuses from those hire firms who won't show you a current insurance certification.
Most reputable firms will have their insurance certificate visible. Most local governments have some sort of regulation and insurance requirements when it comes to the operation of carnival equipment. Even if the rides are owned by an individual or small time operator – insurance is still required. For this reason only hire carnival equipment that have a verifiable insurance certificate. If the firm isn't insured – find another carnival ride hire service. Also ensure that the company you are hiring Amusement equipment can provide the following documentation
– Current plant registration certificate
– Risk assessment
– Safe work method statement
– Ride engineer certification
Ask for References
If you select a firm recommend by your local amusement association, you can be reasonably assured that all safety regulations are being followed. However, it's still a good idea to ask for references. Most firms should have no issue with providing you with a list of previously satisfied clients. In general, you can also opt to contact these people yourself to verify their experiences with the hire firm.
Request an Onsite Contractor
During your fete, festival or event, the carnival ride hire company should provide an equipment operator to ensure that everything goes as planned. He or she should be in charge of the operation and installation of rides. This is because you want to make sure that you event goes off without any problems. Safe installation and operation of the rides will guarantee that everyone has a good time.
Don't Be Afraid to Ask Questions
You want your event to be enjoyable and memorable, so don't be afraid to ask a prospective hire firm very specific questions about the equipment being used by them. You may want to know the maximum capacity of the rides or even very specific questions about their safety record.
All Equipment Should Be Labelled as Recently Inspected
The carnival rides for hire should be labelled as meeting all necessary standards. This type of certification is usually visible as a sticker on the equipment and includes the date of the last official inspection. Also, take a look at the equipment to ensure that it isn't rusty, old or poorly maintained.
A proper inspection by local authorities should ensure that the equipment meets local standards. This will include verification of its operation and that all the individual parts are in good working order. Also, most local inspectors will have verified that the carnival equipment hire company has kept up with their insurance and registration. If you don't see a visible label of inspection on the carnival equipment, talk to the contractor immediately.
Think about the Age of Your Party-goers
One factor to keep in mind is the age of the people who will be at your event. If very young children will be in attendance, you'll want to carefully consider your options. When first speaking with the hire firm ask them about age specific options or special rides designed for a particular age group. Remember the biggest factor to think about is safety – this trumps just about any other concern.
Go With the Most Reliable Source
While comparison shopping is good – it's best to use just one hire firm for all the carnival rides at your event. Dealing with just one hire firm will make things much less stressful and you can be comfortable that all the equipment has been held to the same standards.
Most carnival hire firms will be happy to work with you and come up with the best options for your event. Remember they should also be more than happy to provide all certifications and testimonials they have on hand, as well as a reliable safety record. It may also be wise to have the company set up a day in advance of your event, that way you can be sure everything has been set up and inspected properly.
There should be numerous local hire firms for you to choose from. If you have time try to get quotes from at least three of them. This way you can compare price, safety, and options more carefully.
When all is said and done, hiring rides for your special occasion can lead to a memorable event. Hiring the right firm will ensure everyone has a safe, fun, experience. Just ask the right questions and focus on what experience will be most fun for you guests and attendees. The best carnival equipment hire firms will be more than happy to provide you with the best they have to offer.
Our Carnival Rides for Hire
Whether it's an old time merry-go-round or more thrilling amusement, rides are fun for just about anyone. So get started on your carnival ride hire today. Call Kay-Dee Promotions on 1300 529 333 to find out more.