Inflatable bungee runs, castles, water slides, and moon bounces are very popular as entertainment at children's parties, festivals, fairs, and many other types of events.  These are temporary structures or buildings which are rented for church and school events, village fetes, and other recreational functions.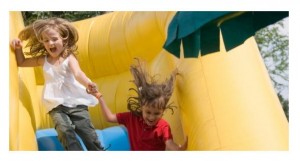 The earliest of these structures began with moonwalks. Now, they also include bungee runs, obstacle courses, boxing rings, inflatable slides, mazes, and more.  These inflatables are perfect as portable entertainment because they are easy to transport and store.
Some of the more popular inflatables include the bungee runs where instead of dropping down, individuals are harnessed to the bungee and then run directly forward trying to go as far as they can before the bungee pulls them back.  They can run against another competitor in the next lane to see who get the farthest before the bungee pulls them back and even try and place a Velcro bag or baton on a board.
There are also obstacle courses which are very popular.  These allow the participants to race each other as they compete to see who can complete the course in the best time.  Many are rectangular in shape, but they can also be square, especially if the course is a maze.  The course may also feature obstacles such as things to climb, tunnels, slides, and pop-ups.
They go by different names including Moon Bounce, Jolly Jump, AstroJump, BunjeeRun, Bouncy Castle, and SpaceWalk.  In Ireland and the UK, they are often referred to as Jumping Castles.
John Scurlock designed the first inflatable structure in 1959 in Shreveport, Louisiana when he was experimenting with inflatable covers for tennis courts.  His employees seemed to enjoy jumping on the covers instead of using them as intended.
John decided he would try his hand at developing inflatables, and ended up inventing inflatable tents, inflatable domes, and inflatable signs.  He was also the inventor of the inflatable safety air cushion that fire and rescue departments use to catch people jumping from heights.
John's wife, Frances, was the force behind the first inflatable rental company.  She started it in 1968 in a leased warehouse in New Orleans and by 1976, John and Frances were building a custom facility to produce and rent their inflatables.  They were marketing their products for children's events, including school fairs and birthday parties and to other events such as company picnics.
Eventually their son, Frank Scurlock expanded the concept and the brand nationwide.  He branded "Inflatable Zoo" and "Space Walk" and also built the first all inflatable indoor play area, "Fun Factory" in Metaire, Louisiana.  In 1987, he opened his second play area in Memphis, Tennessee and called it "Fun Plex".
The inflatables are typically constructed of PVC which is strong and thick, or they are made from nylon and vinyl.  The inflatables are blown up using a gas or electric-powered blower.  These inflatables are designed on the theory of constant leakage, so small leaks or punctures are not an issue.  A medium-sized inflatable will require a blower with an output of approximately two horsepower to keep it inflated.
There are different requirements for side mats and netting in the UK, Australia and the US.  In the UK and Australia, inflatables must have three sides with fully inflated walls and an open front.  There must be foam "crash mats" available to catch children should they jump or fall out of the structure.
In the United States, an inflatable will be supported by inflatable columns and will be enclosed by netting on all four sides with an opening in the front to allow for access.  Adults or those supervising can see in through all sides.
Australia actually has the most stringent standards for the construction of inflatables.  In 2006 the European Union introduced very similar standards which were updated in 2013.  In the United States, New Jersey and Pennsylvania require that inflatables pass safety and engineering standards before they can be rented out.
Inflatable structures provide a great option for entertainment at children's parties, community festivals, or many other events.  There come in a variety of games and are easily transported to the venue and easily stored.