One great way to make an event feel more special is by hiring festival rides. Festival rides can make an event more entertaining for families, and can give adults the opportunity to feel like kids again. Festival rides are a real crowd pleaser.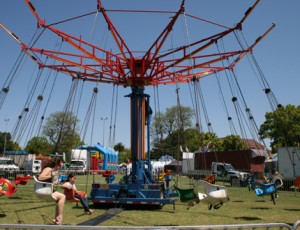 Why Hire Festival Rides?
If you ask people what they like about attending an event, a word you'll hear time and time again is "atmosphere." Renting festival rides will provide your event with a fun and lively atmosphere that will set a great tone.
It's also important for any big event to offer a lot of variety. No matter what kind of event you're hosting, there's a good chance people will get bored. You want to have something that will catch their attention and get them interested in your event again. Making sure people have fun for the whole event is important.
When an event has a unique concept, it's far more memorable. If your event is attached to a person or a business, this can be a great way to build up a positive reputation. When people see you can create a great event, they'll have a higher opinion of your brand. It's a benefit many have never considered.
Rides as a Source of Revenue
Another positive people might not see is that these rides can be a fantastic source of revenue. People will happily pay to go on rides, and that money will go right back into your pocket. It's likely you'll make back every penny you spent and then some.
One easy way to charge people for rides is to set up a fare. People will pay a one-time fee to enjoy the rides at the fair, and then ride them as much as they want. People are more likely to pay when they aren't limited, and this way, only one person will be keeping track of money.
Planning the Event
When it comes to planning a fair, the rental company will usually do the work for you. They'll be able to come up with a rides package that was designed with your event in mind, and they'll handle all the little details of your fair. It's that easy!
Of course, there are many other options available when it comes to renting rides. You could just have a few small rides, or one big piece that's sure to be a crowd pleaser. What's important is that you consider whether or not festival rides will be a good fit for your event.
Finding the Right Festival Rides Company
If you do decide to go this route, your first step will be finding the right company to rent from. You'll have to see what kinds of options are in your area first. Some areas will have a lot of choices, while other areas will be more limited in their selection.
Once you've found some companies, start calling them and talk to them about what kinds of rate they charge. Explain your event to them, and see if they can give you a price quote. Make sure they know that you're shopping around so that they can give you the best rate they can.
Booking Your Festival Rides
After you have a quote, find out what that includes. Is it for all the rides you need? Will you have to pay a security deposit on top of that? Do they have any additional fees? All of these are questions you should make sure you have the answers to.
There are other questions you'll want to ask as well. For example, you'll want to find out how the rides will be transported. Will you have to pay for the transportation costs? Or will they be included in the price?
You'll want to talk to them about your location and see if they have any familiarity with it. If they do, ask them if the ground there is appropriate for festival rides. If it isn't, you'll need to consider a different location for your event.
You should find out how much lead time they require, and how much lead time they prefer to have. If possible, it's better to hire a company early on. This will give you more date flexibility, and may let you choose from a wider selection of rides. You'll also be able to ensure you can get the company you want on the date you desire.
If you're worried about planning your event, you shouldn't be. Most companies that rent festival rides will help you through every step of the process. Some even offer planning services for an additional fee. If you're busy with other event-related things, you may want to take advantage of this.
Make Your Event Stand Out
Every event needs to find something that will help it stand out. After all, people hold and attend events every single day. There's no reason your event should stand out above any of the events people have attended in the past.
That's why you need to take extra steps to catch people's attention. Hiring festival rides is the perfect way to do that. Exciting festival rides are impossible to ignore. Without rides, people may easily forget your event. But when you have festival rides, people will be talking about your event for a long time to come.
There are a number of downsides to festival rides. For example, they can be quite costly. They're something that can't be enjoyed unless the weather cooperates. However, all these downsides can be turned into positives if you try!
Yes, festival rides cost a lot of money, but they also provide you with an easy way to wind that money back. It's true that you need good weather for rides, but most companies will offer a free refund if your rides can't be used on the specified date.
As you can see, there's no reason not to hire festival rides for your major event. They have a number of major positives, and their downsides are quite minor. Make these rides a part of your event. You won't regret it, and you'll want to hire them again.