Who doesn't love having a great time at a party? Everybody likes to let loose and have a good time. That's why it's so important to create a party atmosphere that helps people feel comfortable just having fun.
Unfortunately, in many big events the fun factor is simply missing. Many family parties, corporate events and even college gatherings are just dry and boring and leave the guests feeling disappointed. The reason for this is really glaringly obvious. There is plainly something missing from these boring events, and that item is no other than the giant slide!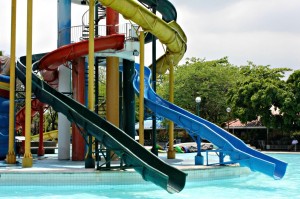 Every great party needs a giant slide!
If you want your event to really be memorable, you need to have something that will get people excited and keep them active. If you want to have a true celebration rather than a boring get-together, you need an attraction that will keep people talking long after the event is over.
Of course, you'd want to plan a lot of activities for folks to enjoy, such as having fun on a giant slide. With its large size, bright colours and fun configurations, big slides are fun for the young and old alike. If you're planning a big picnic or other outdoor events, nothing beats the fun and excitement of going down a giant slide with friends.
Keep your guests occupied and happy!
Even if you have lots of planned events, a giant slide is a great addition that will ensure everyone has something fun to do. Between events or on the way from one event to another, guests can take a turn on the slide. Sliding is easy for anyone. So everyone from granny to your little nephew can join in the fun. If there are lulls in activities, everyone can turn to the slide.
This will ensure that all your guests stay happy and engaged, and there is never an opportunity for people to get bored and ruin your party. No one will be bored or have time on their hands if you have a big, bright colourful slide in the middle of your party. They'll all be too busy having fun.
Break down inhibitions in a happy, healthy way!
Having a giant slide brings out the kid in your guests. It breaks down barriers and naturally lowers inhibitions. Sliding gives your guests a chance to just relax, have fun and get to know a side of themselves and one another they may have forgotten about.
If you get a double lane slide, you can set up races and other types of competitions. This encourages people to form teams and cheer each other on. This can be a great activity at company picnics as it helps encourage and support team building activities that are very valuable for company morale.
You are sure to get your money's worth when you hire a giant slide for your party!
You really just can't go wrong when you make the smart, fun choice of hiring a giant slide for your event. Having it on hand for the whole day will give all your guests plenty of time to really have the time of their lives.
It will bring out a sense of childlike wonder and playfulness that will set the tone for the entire event. Your guests will love having their pictures taken zipping down the slide, and they'll go home with a pocketful of happy memories of the great time they had at your giant slide event.