If you have an event to put together, no doubt you want it to be a big success. You want all of your participants to enjoy themselves and have a good time. You will plan to serve great food, provide lively music, and probably invite some interesting vendors to make your event interesting.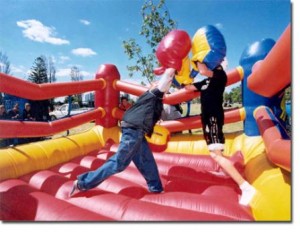 People who like to attend events also like to participate in activities. Activities that require some level of sport are usually very popular.
If you want something different, how about a boxing ring hire?
A lot of people have probably imagined themselves in a boxing ring, sparring with an opponent and trying to knock him out – all in fun, of course. There is really no opportunity for them to just play around. The real boxing rings in gyms are occupied by serious boxers and trainers, so there is not chance for the average person to just go in there and throw a few punches.
A boxing ring hire will give the participant the feel of being inside a ring. The boxing ring hire will include gloves, helmets and whatever is needed to make the experience safe. This is good for people from all walks of life.
Children, in particular, love the fact that they can put on some big gloves and spar with their friend. A trained staff from the rental company is on hand to make sure that safety procedures are followed.
This is sure to be a big draw in your event. Imagine the cheering from the onlookers on the ground as they root on the boxers in the ring. The ring surface is soft, so there is no risk of getting hurt if one falls down.
If you are going to hold a fundraiser, the boxing ring will sure to be one of the activities that get you the highest returns. Kids love being able to punch around safely. You may have a hard time getting them out when their time is up. But you can be sure that they will get in line and come back for more.
The staff of the boxing ring hire will be responsible for setting up the boxing ring and overseeing how people are participating. At the end of your event, the boxing ring will be taken down neatly and quickly. This is a very easy way to provide top entertainment for your event guests. All the work of setting up and taking down is done for you.
Imagine the excitement if you advertise in your flyer that there will be boxing ring in the event. You will be sure to get a lot of inquiries about that. The best way to draw people to an event is to highlight something that you know they will respond to. Giving people a chance to go into a boxing ring for fun can definitely draw them in.
It would be up to you to determine how long each sparring session will be. You will probably have lots of people waiting to try it out, so do not make each round too long. You want everyone to have a chance to have a go at it. Make each round no more than five minutes. People can always get back in line to wait for another turn after they are done.
A boxing ring hire is a great idea that you can explore if you want an activity that will get the body moving. It can be very popular, so reserve it early to get it on the day that you want.